1.EXPERIENCE:Mynavi Baito Booth

Questionnaires related to part-time work as well as interviews will be held at the booth.Full details will become available on the event page so be sure to check it out.
3.DIY:Herbarium & Swag Workshop

The Herbarium & Swag Workshop will combine the art of "herbarium" by collecting colourful dried flowers in bottles and "swags" which are wall decorations similar to wreaths made up of your favourite flowers. Each workshop will take place in the afternoon on the 25th. Get your hands on a stylish item perfect for interior decoration or as a gift to a friend.

Check out the works by teacher Asami "Char" Tnabe here:http://she-mag.jp/diary/87798?wid=54525
4.DIY:CHACO Hydrangea Hoop Earrings & Piercings Workshop

CHACO is a popular shop that uses flowers to create accessories. They will hold a workshop where you can make your very own hydrangea accessories that are perfect for spring and summertime!

Time Required: 30-60 Minutes
Price: \1,000 (tax included)
5.DIY:Mug Workshop presented by Aymmy in the batty girls

Apparel brand "Aymmy in the batty girls" are holding a workshop in the DIY area to make your very own original mug. You can design a kawaii mug with Aymmy's logo, spring & summer items and more. There's also a limited number of places to participate in a workshop together with Aymmy designer Ayumi Seto. Full details will become available on the event homepage!
6~8.EXPERIENCE:Fortune-Telling Booth

The fortune-telling area features booths for four different fortune tellers active in magazines and on TV! For ¥500 you can receive a 10-minute telling from an expert. Take advantage of this opportunity to find out for fate for April!
9~10.FRESHLIGHT is a popular hair dye brand who host a popular campaign for people to make their big Harajuku debut (#原宿デビュー大作戦)
At the MMN Festival, you will be able to casually enjoy having your own hair dyed too as well as hit the photo booth. Throw on one of the many wigs available for a fun image change, and even experience a photoshoot in front of a photo panel just like FRESHLIGHT's models! A little later down the line, people who post their photo on their social media will be randomly selected to receive a present♬
22~23.FASHION:Tokyo Flea Market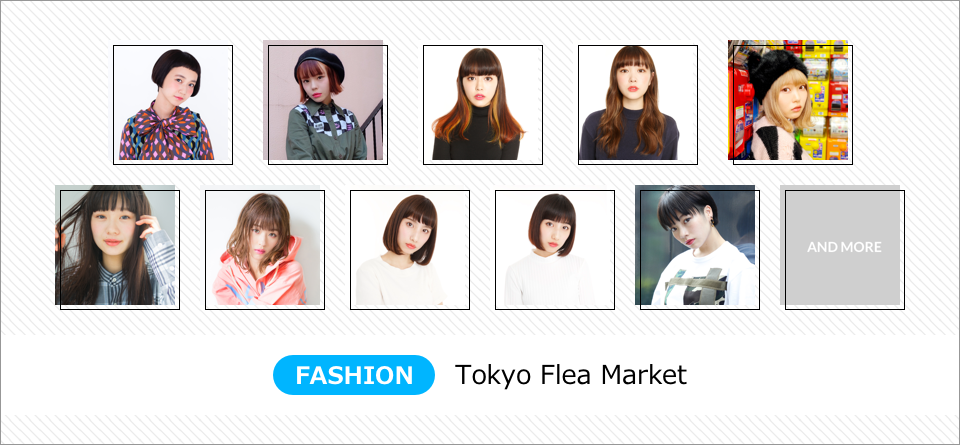 A flea market will be held selling personal items owned by the stage performers. You might even be able to get your hands on items featured in magazines and items worn by the performers on their social media! The list of participating performers in the flea market will be updated regularly so make sure to check it out!

Flea Market Participants:Natsume Mito,Ayumi Seto,Yuri Suganuma,Hikari Shibata,Ren Koseki,Chie Tsuji,Ema Tanioku,Eri Tanioku,Anna Yano,Yuna Yabe,Yoshiaki,Michi,Mei Nagasawa
25.BEAUTY:MEGA Don Quijote Shibuya Honten
You can try out the latest products at the Don Quijote cosmetic booth, and if there's any particular items you like then you can buy them. Get your hands on this year's spring trend make-up before anyone else!
Models will take on the role of tour guides to escort you on official event tours, 100% MOSHI MOSHI NIPPON style! Join Saki Shibata on her "Shibatabi" around Shibuya and Harajuku, enjoy workshops with Yuri Suganuma and Ayumi Seto, stop by cafés with Ema Tanioku and more♡ Places are limited and you must sign up in advance, so stay tuned for more information coming to the event website!